Regular price
$45.00 USD
Sale price
$45.00 USD
Unit price
per
Sale
Sold out
This is a pre-order. We anticipate shipping sometime in Q1 2024.
If you are planning on ordering this in addition to in-stock inventory, please make separate orders if you would like to receive separate shipments. Otherwise we will plan on fulfilling the total order when this pre-order is ready. Thanks!
This is our classic Tiny Bible in a fresh edition, the New King James Version! Pre-order today to secure your copy and join our waiting list. 
View full details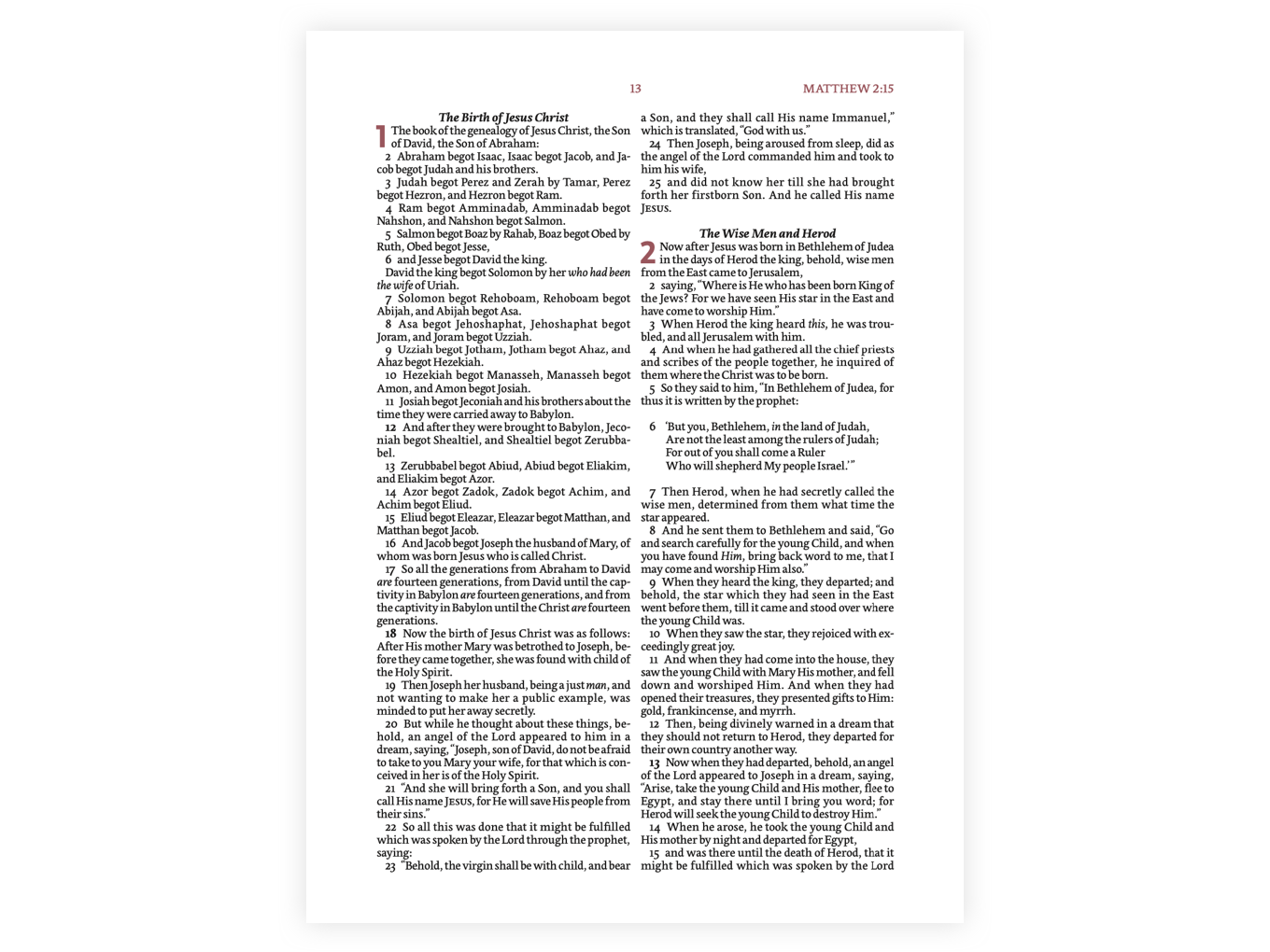 Typesetting
Tiny Bible's typesetting is by Scribe Inc, a Philadelphia-based company that knows the ins and outs of Bible typesetting. Tiny Bible is typeset in a font family called Edita, which we chose after real-life user testing with several different fonts. Edita has a font style that is particularly designed for small font sizes. Click here to view a sample of the first 3 pages of the gospel of Matthew with a 3mm bleed around the edge. Note: Don't be intimidated by the size! In our experience, the desktop browser preview is smaller than actual real-life page dimensions of 1.93 x 1.46 inches. You can zoom in to have a closer look.
Printing & Binding
At this size, Tiny Bible has to be bound by hand which is very time-consuming. At scale, this is almost unheard of in Western publishing houses. After conversations with numerous Bible printers, we've partnered with R.R. Donnelley's Asia facility to print and bind Tiny Bible. It is ~896 pages (exact count TBD), smythe-bound (stitch bound) in signatures of 64 pages each. The cover is made of beautiful black milled cowhide.
Translation
This printing of Tiny Bible is in the New King James Version. Our license with HarperCollins has given us the flexibility to omit the translation notes so the miniature page can focus on the text.
Technical Specs
Page dimensions: 1.93" x 1.46"
Cover dimensions: 2.17" x 1.77" x 0.79"
Book block: TBD page count, 30gsm
Total weight with box and lens: TBD
ISBN: 979-8-9869672-8-8
Pricing
If you're buying Tiny Bibles for a ministry and want to explore bulk pricing, let's get in touch! 
Return Policy
Due to Tiny Bible's highly unusual size, part of the binding process must be done by hand which is normally completed by machines. These human factors may cause rare quality control missteps. We stand by our product, and if for any reason your Tiny Bible arrives defective or damaged, you may return or exchange your purchase within 30 days of its arrival. Please contact us with your order number to begin this process.